August 9th ArtWalk
5-8pm | Rain or Shine!
Celebrate the Arts with a Carnivale!
An arts "Carnivale" theme will highlight the August 9th ArtWalk, starting with a bevy of activities being staged outside the Elkhart Art League's studio at 131 Tyler Street (west wing of the historic Amtrak railroad depot). ArtWalk attendees are encouraged to park at the depot or nearby post office parking lot and take in the many attractions at the Art League's Carnivale; then walk north on Main Street to see the other art and music venues.
Elkhart Art League Arts Carnival Activities:
Free-form & Throwing Pottery Demonstrations

Robotic Art

Batik

Print Making

Glass Blowing

Watercolor Demonstration

Dance

Henna

Kids Art for Sale – all proceeds going to each young student
Night at the Museum
The Midwest Musem of American Art will offer extended hours and free admission to its galleries. The fascinating exhibition "No Boundaries: Outsider, Folk & Art of the Self-Taught" explores the creative expressions of internationally-acclaimed folk artists like Grandma Moses and local self-taught masters like Bob Williams of Stevensville, MI (who will be a featured ArtWalk at Our Place on Main, 126 S. Main, as well as having work at the Museum's show). "Interpreting Marilyn: An Exhibit of Art about an American Icon of Film," complements the Seward Johnson bronze sculpture installed at the Museum.
Must-see: 19 of the 56 life-sized Seward Johnson bronze sculptures in the Epic Art Adventures series (that were installed throughout Elkhart County) are in downtown Elkhart. The largest sculpture (25 ft.) depicts figures from the iconic painting "American Gothic" by Grant Wood in Central Park in downtown Elkhart.
Music on the Plaza
On the Civic Plaza Main stage, the scorching blues of J R Clark and the All-Star Blues Mob will entertain the ArtWalk crowd. This four man group offers some of the region's foremost blues talent. Other musicians include two singer/songwriter guitarists Megan Hapel and Rachel Swanson. Perennial favorite musicians include Don Kilgren (at the Art League Carnivale) and Don Savoie, Rex Ellsworth and Mike Keagle.
Family Friendly Fun & Food
Downtown's 11 food and beverage establishments will offer an array of specials. Kid's crafts and activities will be at the Tutu School, 215 S. Main and at The Black Crow on Main, 224 S. Main.
Katherine Corpe
Katherine Corpe will be the featured artist at n. wirt design & gallery, 503 S. Main. Her lively gouache and ink washes are full of vigor and whimsy:- an ecstatic dancing bull is one of her subjects that always delights.
Suzy Bishop
The prolific sterling jewelry designs by Orion Silversmiths will be showcased at Arts on Main, 205 S. Main Street, along with a sneak-preview of pottery by the late Suzy Bishop (who will be honored with a retrospective show in September).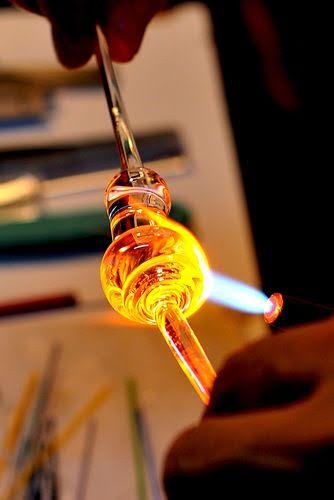 Judy Purze
Juxtapose Gallery at 208 S. Main Street will showcase the glass creations of Judy Purze, along with the eclectic lighting of Cary Osborne and fractal photography of Kevin Gross.
JR Clark and the All-Star Blues Mob
On the Civic Plaza Main stage, heating up ArtWalk with scorching blues